Link up and share what you're working on and brag about what you've finished…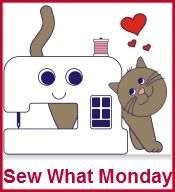 I'm currently focusing on partially finished projects. It's time to get these random things done and make room for new ones. Sooo, these snowmen that have been sitting around since last October got quilted and bound.
My first ever t-shirt quilt is moving along. The top is pieced.
I had enough shirts to add some patches to the back as well. It just needs the label put on.
And just because it's too fabulous not to share……here is a view from my back porch this evening as a storm rolled through. I've seen lots of rainbows but never one that ran from horizon to horizon. There was usually a building or trees blocking the view.
Have a crafty, fun week! Enjoy all the little things in life!