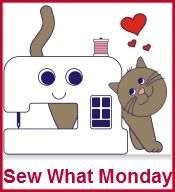 This weekend I finished my Good Night Moon quilt top. It's one of my favorite children's books. Maybe someday I'll have a grandchild to snuggle under the quilt and read the book with. Until then it's cool none the less.
This week I plan to get several quilt tops quilted and bound. How about you?
In random news…
This weekend was my 27th anniversary!!
I also have a new addition to my porch. Isn't it fabulous! Now I'm set for sitt'n. hahaha. This is where you can find me when I'm not sewing.