Sew What Monday is finally back.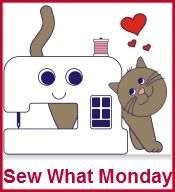 My new sewing studio is almost set up. At least I can find everything and start playing sewing again.
This weekend I finished my July Stash Bee blocks. You can find a tutorial for the woven chevron at the Elven Garden blog. Here are two blocks side by side.Very nifty design.
I also completed to random wonky blocks for another group quilt.
Happy Sewing and Crafting!!!