I apologize for the blog silence. I've just finished my first vending booth at the San Antonio Quilt Show. Did any of you attend?
There were so many details to think about and a lot going on behind the scenes. I started with a sketch and tried to plan out every inch of space ahead of time to minimize any surprises….I hate surprises.
Here's my booth after everything was moved in. Check it out….my name on the wall!!!
The table was longer than I planned so that was a good surprise. It was sooo strange being surrounded by all my quilts.
Now I have to turn my attention to the Houston Quilt Market. QuiltWoman.com is providing small booth spaces for their designers which is awesome. I still need to print my catalogs and learn how to print a poster. Any know how to design posters?
And on a random note….has anyone else noticed that Oreos are putting less cookies per row in the same packaging? See the gap? The package now weighs 14.3 oz. Just sad:(
Today is week #5 of the Season's Row Along.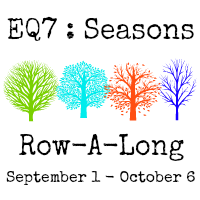 Mark your calendars for the Halloween hop coming soon!