Come join the fun
You never know what you might learn along the way!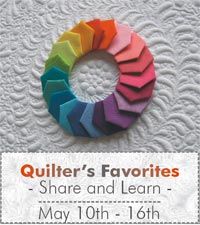 List three of your favorite quilting notions…..
♥♥ Batt Scooters by Paula Reid…sooo much easier than gloves when machine quilting. The grip and control are amazing.
♥ ♥my Hera Marker…no ink to worry about
♥♥Iron Off Hot Iron Cleaner…. I do lots of applique so this counts as a quilting staple
♥ Olfa Ergonomic Cutter…because I'm a scatter head and the blade closes automatically when I let go
Any advice for a successful color scheme of a quilt ?
Pick fabrics you LOVE. Lay them all out. Take a black and white photo of them together.The ones that don't match will pop out at you.
Some thoughts about thread, needles, batting, fabrics ?
Needles –
Change them often!!
They are usually the trouble maker if there is a problem going on.
Fabric – Buying good quality fabric is worth the cost. I've learned this lesson the hard way.
Thread – If you are stuck between two colors that are close always pick the darker one.
Could you share some tips for easy piecing? Measure, measure, measure and then cut accurately. It's the first and most important step. It will save you a headache later.
If you enjoy other quilt techniques than patchwork, could you share some tips with us ? I LOVE fusible applique. I have all my tips HERE
Do you have any free tutorials?
Lots! Just look at the top menu bar…
The sewing machine - please share a few things you love at your sewing machine; what makes it special ? I do most of my sewing on a Babylock Jane. It's a no frills, fast, straight stitch only machine. I couldn't live without my needle up/down feature and auto thread cutting. It has a slightly larger arm space which is great for stuffing all that quilt fabric in to.
Modern Tools?
I use and LOVE Electric Quilt 7, a.k.a. EQ7. You don't need to be an artist to draw an applique block in EQ7. That's what I love about it! It's so fast and easy to use. You can resize your block and move it to other layouts with ease.
You can find some of my EQ7 tutorials HERE.
Do you have a favorite quilt designer ?
Not really, I like to make a lot of my own patterns. Although I do think Patrick Lose designs are adorable and fun.
Would you like to share one of your favorite quilts, made by you ?
Wow. this a hard one to answer. Each is a favorite for a different reason.
I guess the one I've had the most fun with is Mr. Bones. He'll be back again this fall and up to his usual antics. Keep an eye out!
My current favorite is Somebody's View which was made for a swap. I tried lots of new techniques with shading and perspective on this wall hanging.
Do you have a favorite online quilt shops ? What makes it special ?
These are the ones I tend to return to the most. I like the customer service, selection and prices.
marthasquiltingcorner.com
thousandsofbolts.com
fabric depot.com
hancocks-paducah.com
jandofabrics.com
That being said, I really like to buy my fabric in person. I'm a fabric petting person.LOL
What would be the perfect gift for your best quilting friend ? Since she no longer lives close it would have to be a shop till we drop fabric store hop…which we will be doing soon!
Have a great day and I hope I didn't bore you!