It's another Sew What Monday.
Share what you're working on below.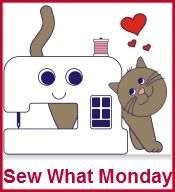 I finally got all my ducks in a row. Hahaha. Love this photo!
Update: My house in under contract, I found a new house and it's also under contract and I'm ready to hit the road. We are just waiting on the moving company.
I did get a little time to sew recently so I joined the
Craftster Mini Art Quilt swap.
Be sure to drop by the gallery and watch all the wonderful creations being submitted.
The lights are a set of mini rice lights that actually light up! They are battery powered.
I embroidered an artificial light string on the front so I could the exact curly shape I wanted. Then I made little eyelets on the wall hanging and inserted the actual lights from behind.