Welcome to another Sew What Monday!
Link up below and share what you've been working on or plan to work on.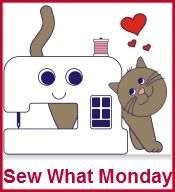 I was lucky enough to get to hide in my sewing room all weekend. Well, almost all weekend. Just look at all this goodness waiting to be quilted.
1.
Finished my second Peanuts quilt top.
2. Pieced a backing for another quilt top from last year.
3. Finished a trial run of 2 new quilt patterns and pieced their backings. Now I have to get the directions written up.
4.
Took the binding off my first Spock quilt. It was tied and I've decided to machine quilt it instead.
5.
Made another Bunny Business wall hanging.
6. Finally quilted Mr. Bones. Remember him? Now he has some bling in his treasure chest.
7. Wrote a tutorial and product review for a fast and easy way to write a blog post. That will be up tomorrow.
8. If you've read this far I have a surprise gift for you. Leave a comment before Wednesday telling me what you love about spring and I will email you a PDF of the Bunny Business wall hanging pattern.
Have a busy, crafty week everyone!