I will be hosting a Sew What Monday blog hop starting…well…on Monday! Let's link up and share some sewing goodness each Monday. Projects can be finished or in the works. It'll be fun to see what everyone's working on. What a fun and motivational way to start the week.
The Simple Rules Requests
1. Link your project photo to the Mr. Linky on the bottom of Monday's post so we can visit.
2. Please grab a
Sew What Monday
button below (or from my side bar) for your blog so others can join the fun too. The more the merrier! Just cut and paste the code in the box below the photo on to your blog. You can add it on your post or place it in the side bar.
3. Visit and comment on at least 1 post above and below yours. Let's all share some blogging LOVE.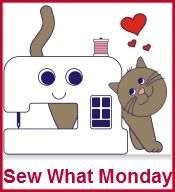 <center><a href="http://www.funthreads.blogspot.com/search/label/Sew What Monday"><img border="0" src=" http://i774.photobucket.com/albums/yy29/csteely/SewWhat.jpg "/></a></center>