Daylight Savings Time and all I can think of is I've lost an entire HOUR of sewing time!
Today is sign up day for the Hands 2 Help Challenge. Drop by Confessions of a Fabric Addict blog and sign up. Then pull out those scrappy bins and create. It's that simple.
---
Why not "double dip" your effort and join the Scrap Attach Challenge while your making your H2H quilts…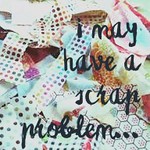 I'm busy working on my March string blocks…80 to be exact …and… Gasp! I've never made string blocks before. How have I missed this fun band wagon all these years?!
---
I can see! I can see!
I'm sooo excited this weekend hubby added LED ceiling lights to my sewing room.
---
This year the Quilt Qwazy Queens blog hop over at Seams to Be Sew Blog has an UFO theme. Woot! That starts March 15th.
---
My goals for the 2018 Scrap Attack Challenge
1. Make a string project – March project coming soon
2. Make a strip project
3. Use novelty scraps
4. Use batik scraps – January top completed – waiting on quilting - going to H2H
Free tutorial HERE



5. Use red scraps – February completion – Donated to Bright Hopes
Get my free pattern HERE



6. Use blue scraps
7. Use red, white, and green scraps together Ho,Ho,Ho
8. Use food fabrics
9. Use pink and brown scraps
10. Use black and white scraps
11. Use a rainbow collection of scraps
12. Use scraps with the GO butterfly die
13. Use sock monkey fabric
14. Use dottie scraps
15. Piece backs for UFO tops
16. Use geometric scraps
Have a great sewing day!