If you're still here, I apologize for being absent. My "little engine that could" has felt more like a derailed train since my mother/best friend passed away in October.
In January I took a step back to re-evaluate my sewing and make some New Year's resolutions.
1. Finish UFO quilt tops – I seem to love making tops but not finishing quilts. I know you recognize some of those. Egads!
2. De-stash scrap bins – Some have exploded into two bins per colorway. Uggg.
3. Make more charity quilts – Repeat steps 1 & 2 as needed.
Luckily for me motivation is everywhere and it's never to late to join in!!!
This year the Quilt Qwazy Queens blog hop over at Seams to Be Sew Blog has an UFO theme. Woot! That starts March 15th.
Hand2Help is right around the corner with sign up is March 11th. There are several wonderful charities to pick from including tops only which are needed in Canada.
Although one month late, I'm going to join Confessions of a Fabric Addict's Scrap Attack 2018 Challenge.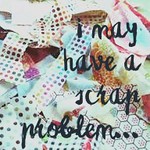 My goals for the Scrap Attach Challenge
1. Make a string project
2. Make a strip project
3. Use novelty scraps
4. Use batik scraps – January completion - going to Bright Hopes Organization
5. Use red scraps
6. Use blue scraps
7. Use red, white, and green scraps together Ho,Ho,Ho
8. Use food fabrics
9. Use pink and brown scraps with the GO cupcake die
10. Use black and white scraps
11. Use a rainbow collection of scraps
12. Use scraps with the GO butterfly die
13. Use sock monkey fabric
14. Use dottie scraps
15. Piece backs for 1/2 UFO tops
16. Piece backs for 1/2 UFO tops
Wish me luck! I hope I can keep up the UFO and scrappy motivation!!!