This weekend was our sewing bee retreat. I just LOVE retreat weekends ~ don't you? It's when I finally sit still and finish my UFO's (unfinished fabric objects).
This was our sewing view. Relaxing or what!
Sundown on day one… but not to worry….we continued to sew until after 1am.
(affiliate link below - I may be paid if you make a purchase)
I recently took a Craftsy class called "20 Fresh Applique Techniques" by Amanda Murphy which was a ton of fun. She had some really lovely projects. I finished my mini wall hanging version of her swirly quilt.
Next I finished my last paper pieced block from Bea's quilt along.
Then I got motivated to make the entire quilt. Linda encouraged me to try a new technique…a little 1/4" flange around the borders. It just makes the entire quilt pop. Always try something new!
We always try to include some type of group project in our weekends. This time Janis led the group in making itty bitty pin rests….NOT pincushions…..just a little place to rest your needle so you don't loose it on the sofa, bed, floor, etc. while working. Aren't they ADORABLE! They're hand sewn from 8 little hexies.
Our bee is doing a block of the month together so we all worked on getting our monthly blocks caught up. Lots of lovely batiks were floating around the room. This is going to be gorgeous.
Bev finished my "All Flakes Welcome Here" pattern. She's did an awesome job!
Sewing with friends….Priceless:)
---
Today is also the BIG reveal of projects from the Seasons Row Along.
You DON'T WANT TO MISS THIS!!!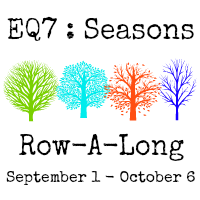 Did you have fun? Did you collect all your rows? We'd love to see your projects.
You can share in our Flickr group.