Gosh! Month #3 is here already. Have you been stitching along? Link a photo below.
This month we will be trying some mock hand applique. There are a number of ways to do this but we'll be using freezer paper to make our shapes and sew them with monofilament (invisible) thread.
Missed blocks can be purchased in my PatterSpot shop HERE
Prepping your templates
http://www.bhg.com/crafts/quilting/easy-applique-techniques/
All about the stitching
http://www.allpeoplequilt.com/videos/v/63543939/video-15-mock-hand-appliqu-basics.htm
---
Share last months block
---
Island Batik Hop is still going on. Today's stop is Purrfect Spots

Starting today, the Electric Quilt Seasons Hop.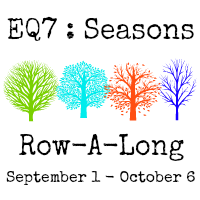 First stops are