Come join the linky party and get motivated to finish projects in 2013. It's open to any type of stitched projects and is hosted by Never too Hot to Stitch blog. You can find all the details on her blog.
I don't have many UFO's as my mission in 2011 was to get them done but I do have a few delayed items lingering around the sewing room that need some motivation.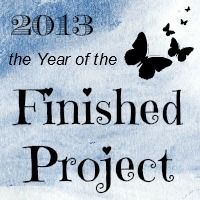 January To-Do List for Funthreads
#1
I MUST finish a queen sized quilt using the Seattle Streets Pattern that was started as a wedding gift since the wedding was back in December. Ug. I'm a bad friend! I just got distracted with other fun little things along the way while waiting for the bride to make quilting choices and while waiting for fabrics to arrive.
Finish 4 puzzle bag quilts for my quilt guild.
Puzzle bag quilts are bags of random fabric scraps and orphan blocks that are to be made in to fun quilts for the local children's home.
Why did they stall….hmmm….don't know for sure. I just have sewing ADD:)
Puzzle bag #3 fabrics
contains 11 pieced jars and several strips of Hungry Caterpillar fabric
Puzzle bag #4 fabrics
contains 2 pieced starts and several scrap pieces of fabric
Make a quilted book to go along with this story, A Book for Black Eyed Susan by Judy Young.
Our quilt guild loans the books and matching quilts (in this case a quilted book) to the public school reading programs.
I might need people stalking and watching to get this all done.Hahaha.