Welcome to another Sew What Monday
What are you up to in your craft room?
Link below and share…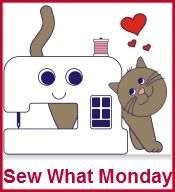 Who am I?
Today is a small finish. It's a nametag for the quilt guild meetings. If you don't wear your nametag they fine you at the meetings soooo I was motivated to get something crafted.