Linky below to share what's happening in your crafty world!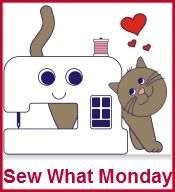 This Saturday I joined the Greater San Antonio Quilter's Guild. It's a huge guild with over 250 members. I LOVE how active they are in the community. What a fun bunch of ladies.
Well, they had bags of random fabric pieces called Puzzle Bags. The puzzle is to create a finished quilt for the local children's home using the random pieces. You can add some extra fabrics to the bag if you like. As you all know I never have enough to do…hahaha….so I grabbed two bags.
This is my first Puzzle Bag top. It's the Care Bears holding the alphabet. It screams little girl.
This is my second bag. It has 3 finished blocks and some random fabrics. Hmmmm, what do you think it should be? I almost see two separate quilts here.
Then late last night I thought I finished my Stash Bee block until I took the photo and noticed this. UGH! Late night sewing isn't my thing I guess. LOL.
Happy Sewing and Crafting!!