Welcome to another Sew What Monday! Link up below and share what's happening in your craft room…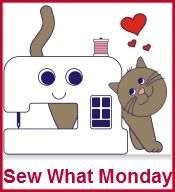 We've started the official 5 day count down until the moving truck comes to sweep us away to Texas. N
eedless to say it's causing me to have a panic attack.
So I sneaked and unpacked my serger and a fabric scrap bin. I spent the afternoon doing some fast, mindless sewing and managed to whip up 22 blankets and 11 pet pillows for the local SPCA. My last delivery for Virginia.
I feel better now and may just make it until the end of the week….Maybe….