It's another Sew What Monday!!
What are you working on? Link up below and share…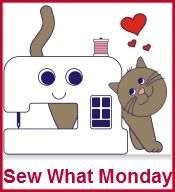 I have to share the story behind what I was working on this weekend. My hubby does bicycle rides or road races. Now I'm not talking a short, scenic afternoon ride here. I'm talking 100 miles of non stop pedaling up some of the highest mountains in the area. More than 8 hours of bicycling in rides with names like Mountains of Misery and Blood, Sweat and Gears just so you have a mental image.
Photo taken at the top of Mount Mitchell. Highest peak East of the Mississippi River. Elevation 6684 ft..
Well, hubby was on a clean it out we're moving mission last week. During this cleaning spree he tossed all the ride shirts that have been collecting in the back of his closet for years. I was heart broken. How could a good wifey and quilter just stand by and let that happen?! So, when he wasn't looking I went trash bag digging and got them all back.
It took me a few hours on Saturday to prep them for a t-shirt quilt. I've never made one before so this will be an adventure. I have 27 blocks from the shirts.
I scanned some of his various ride photos on to fabric to add. Here they are drying.
I think he will be surprised. Don't you?